Life Ledger's series of conversations with people that are shaping today's bereavement sector continues with, Marian Sinclair of Motorcycle Funerals Ltd.
LL: Tell us a little bit about your background and how you came to find yourself in the death/bereavement sector?
MS: It all started for me at a church Christmas party in 1996 My pastor invited other local pastors to the party and that is how I met my future husband, and co-founder of Motorcycle Funerals, Reverend Paul Sinclair.
LL: How did Motorcycle Funerals start?
MS: In 2000 Paul and I were involved in a serious traffic accident on his motorcycle as he dropped me home after a service. I was only in hospital for a few weeks, Paul was in hospital for several months and it was 9 months in total before he could return to work. During this time it struck him that if he had died as a result of the accident, he would have been taken for burial in a 'traditional' hearse, as someone that had been a biker for most of their life it didn't feel right. So, he spent his recovery creating an alternative.
Before becoming a pastor, Paul had been a qualified sheet metal worker, he used his skill and knowledge to design the first motorbike and sidecar hearse. He was very precise in his drawings and wanted to make sure the coffin was both clearly visible and properly protected from the elements and a floral rail on top of the hearse body.
He worked closely with Jim Dasey who raced side cars and an engineering company in Derby with their help the first motorcycle hearse was built and patented in 2002
While all of this was happening, we had recovered from our accident, got married in 2001 and decided to move to the East Midlands to start Motorcycle Funerals. After 26 years as a pastor in Willesden in London it was a huge decision for Paul, but he  knew it was the right one.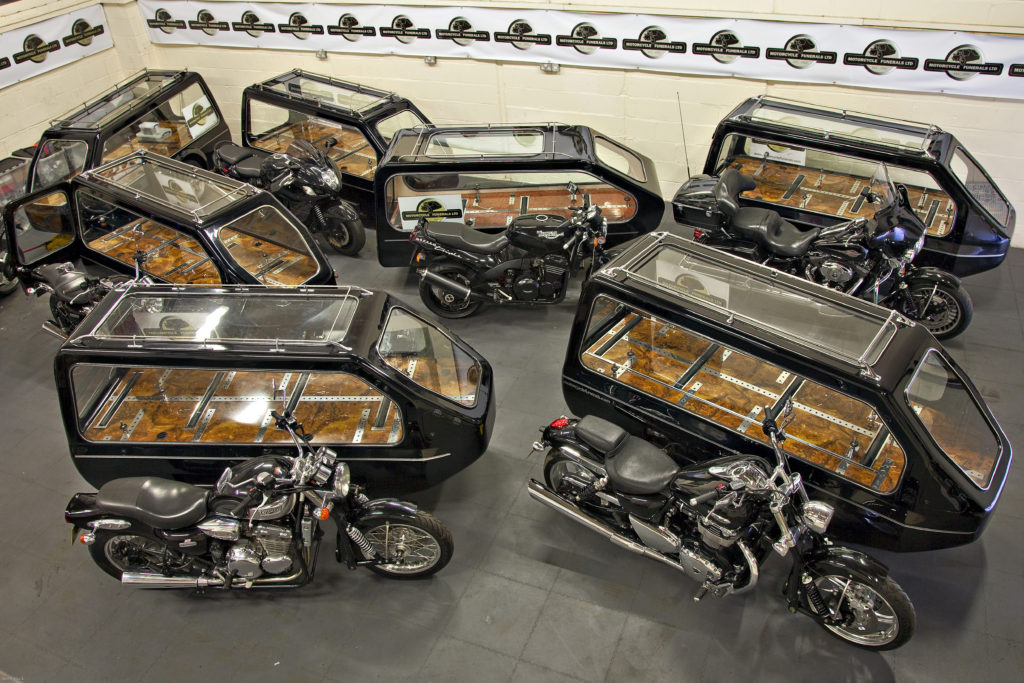 LL: What is the main aim of Motorcycle Funerals?
MS: Paul's dream was to give everyone the choice to go the way they had lived. In the 26 years he worked as a pastor in London Paul had buried many biker friends and he used to say if sailors get buried at sea and soldiers get a gun salute what is there for someone who is been a biker all their lives.
MCF offers the bereaved family a genuine alternative to an automobile hearse and we deliver it with the honesty, dignity and integrity that their loved one deserves.
We offer a memorable ride and a dignified journey
LL: What have been the biggest challenges face by Motorcycle Funerals to date?
MS: The biggest challenge, by far, came when Paul passed away in 2019, losing my husband and the founder of MCF was a huge blow, then just before the 1st anniversary of his death Covid struck.
I didn't have a second thought about carrying on with MCF and continuing Paul's amazing legacy, to say it's been hard would be an understatement however, I can say the challenge made me grow as a person. We have an amazing team at MFC that keep the business moving forwards and Funeral Directors have a great regard for my husband, I am so blessed that this is still the case even after his death through their continued support of me.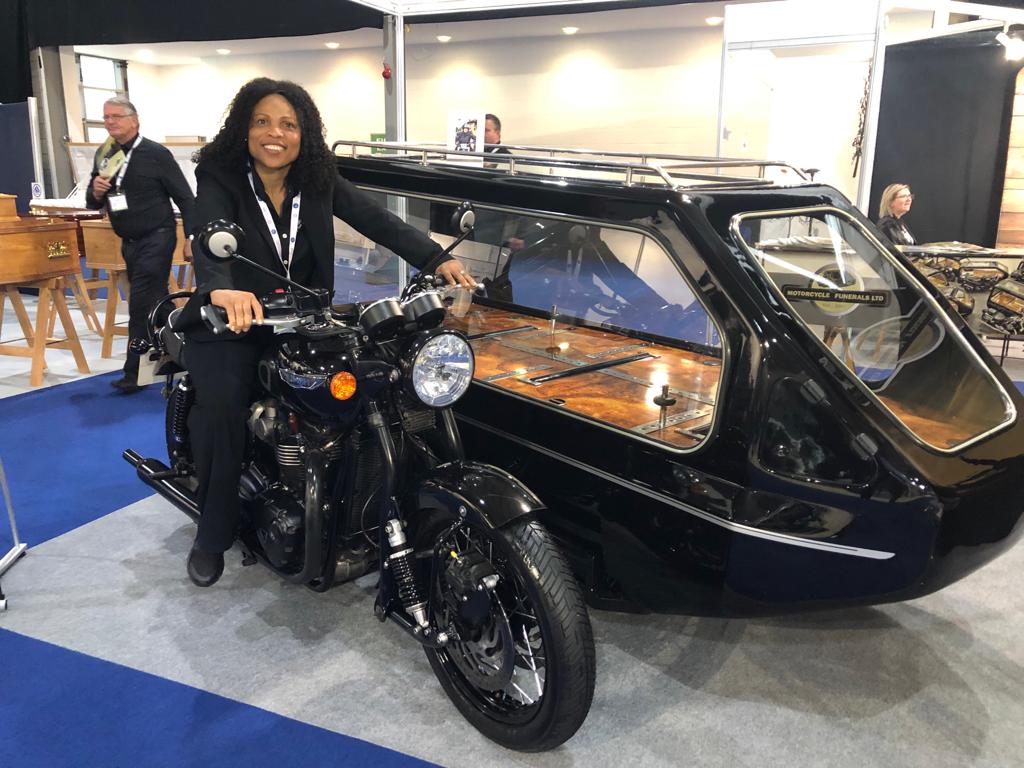 LL: What do you feel have been Motorcycle Funerals biggest successes to date?
MS: We are still here 20 years on and almost 3 years since the death of our founder his legacy continues, still serving families with passion and still providing something unique in our field. The passing of a loved one is very difficult, as I know all too well, so it is only right that we do all we can to help make the way they say their final farewell as fitting for their loved one as we can.
LL: Where would you ideally like to see Motorcycle Funerals in ten years' time?
MS: I hope we can continue to grow and offer more families the opportunity of a dignified final journey, one last memorable ride for their loved one.
LL: What do you feel is the single biggest issue currently facing the death/bereavement sector?
MS: The sector was really male dominated, but I can say that is changing slowly but surely. Kate Edwards, president of the National Association of Funeral Directors (NAFD) is a perfect example.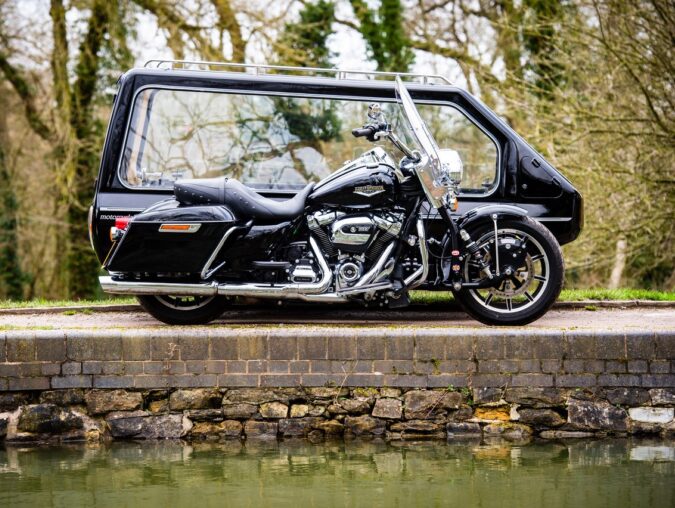 LL: Which other organisation/s or people really impress you in the death/bereavement sector?
MS: I have to say funeral directors. Losing Paul made me realised what a big difference it makes when you have a good funeral director looking after your loved one, whilst looking out for you.
Lucy Coulbert who owns the Individual Funeral Company was our first female hearse rider. She was trained by Paul the 'Revving Rev' or as some liked to call him the 'Faster Pastor'. When my Paul passed, she organised everything whilst she kept me informed making sure if I was okay with the arrangement, it did take a lot of pressure off me. She even arranged for Paul to have two laps on the racecourse at Castle Donnington Lucy led the ride she was utterly amazing.
She is simply the best.
Then there is T.Crib & Sons who are a family run business, everything they do is top class the way they look after and support families their horse drawn carriages are simply amazing.
A.W. Lymn are another family run funeral directors, they do a lot of charitable work for their local community and have an amazing fleet of hearses including a Rolls-Royce, Phantom